This is last chapter of my talk with Dan. I'll eventually have them all in one place on the '12 days of Apologies' page. Thank you so much Dan for being part of this project!
A lot of the songs like 'This Hearts on Fire' obviously are just completely autobiographical. 'Same Ghost Every Night' is also about that, and about living in this environment. This weird isolated rural area in Canada. It's a little different now, the world has changed and there's no industry here and the redneck component is a lot smaller. But at the time when I was growing up there was this backdrop of family tragedy but there's also the environment you're in. If you liked punk rock music, the environment is hostile to you. Because of the people who lived there and the environment itself, the natural world. People come here for vacation now, but for me as a kid I tuned into this aspect of it, an almost 'Lovecraftian' cosmic horror of living in this tiny outpost of humanity surrounded by the woods. And not in a nice way. In a way that nature is constantly just trying to swallow up these little colonies of humanity and just doesn't give a shit about you. This forest just doesn't care about you. You're insignificant compared to it. And those two thing, my mom passing away and that feeling of being here I think that translated into the way I started writing songs and how I wanted to communicate things. I wrote about landscapes and describing geography more than I wrote about personal relationships or love. I would rather write about that, this place. Existential horror with a bit of positivity thrown in there. Maybe there's an exit. There's dignity in feeling that bad.

'It's A Curse' is really about Cowichan Lake. It's about growing up in this rural place. Shine A Light is about my mom passing away and moving to Montreal and living in a giant city and working a shitty job and having brutal insomnia. But seeing sort of a light at the end of the tunnel maybe. 'Modern World' same thing, it's like moving to Montreal and being broke and wandering around in this metropolis. So that recording session with Isaac helped me figure out what kind of writer I was. I think I went on to write songs that summed up those feelings more eloquently or in more detail but I think the early songs are the rawest expression of what eventually became the language I would use to talk to people through songs.

I think weirdly 'Plague Park' is an addendum to 'Apologies..'. 'Snakes on a Ladder' was actually gonna be a song for Apologies. I wrote it during the Apologies session on acoustic guitar. We had a recording of it but it got cut from the record. It's on the lost reels. That (song) was really the bridge to songs like 'Sing Captain' that was coming from the same pool. Then I got free of it. It was the launch pad. It was a painful and weird process and was also very exciting and joyful.
---
I'll Believe in Anything
Lyrics
This track first appeared on Spencer Krug's earliest release as Sunset Rubdown, 'Snakes Got A Leg', which features this amazing solo version. You can purchase Snakes Got A Leg from Absolutely Kosher Records:
---
Quotes from fans
Daniel Ransom: "A local radio DJ used to have an afternoon gimmick called "Your new favorite band," when he'd intro some new song or album from an indie artist or otherwise unheard of band that normally would never make it onto rock radio. I was driving and he talked about Wolf Parade and put on "I'll Believe." First time I ever heard it or anything by Wolf Parade, and the DJ's cutesy promo was true: Wolf Parade was, in fact, my new favorite band. Bought the album that same week."
John Watson: "My favourite song on this album is believe in anything- I have 4:36 tattooed on the back of my arm (the running time of the song). I used to commute to school in the Canadian winter by train and used to listen to this album on repeat. This song in particular I associate with the changing in friendships, enemies and overall relationships I had change over the course of my early 20s. I like how Levitra http://hesca.net/levitra/ works for me. The erection is OK, and my partner hasn't noticed any difference. I did have a runny nose, but it's a trifle I don't take into account. I'm definitely going to repeat this. Another key point to note about this song is that Spencer wrote it an extremely long time ago and along with standing the test of time, like people, has changed and warped into what it is today- a beautiful reflection of the hardships of a man. That's something I really love."
---
Official video by Matt Moroz
---
Fan Made Music Videos and Covers
---
Illustrations, Digital Media, and Photos

Created by Catherine Roach. See more of her amazing work at TheSeaOrYou.com

"Give me your eyes, I need sunshine" Created by Alexis Winter. You can purchase this print and others from her store on Etsy.com
Apparently you can send someone this ecard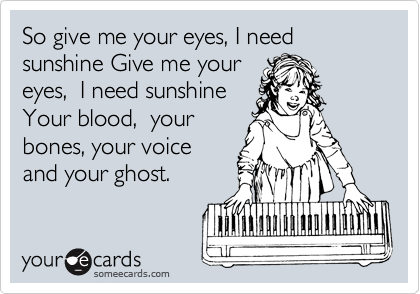 nobody knows you and nobody gives a damn. i'll believe in anything and you'll believe in anything. you learn how to fight one way or another- or you disappear. i know how to fight but i like disappearing. 5/9/11, I'll believe in anything- how to buy low cost valium withou script Wolf Parade
Created by That Weasley Kid

Created by The End and the Beginning
---
Tweets
Prescription: turn on Wolf Parade's I'll Believe in Anything at loudest possible volume – instantly feel better about life.

— Robyn Pike (@robynpike) September 2, 2015
As always and forever, when in doubt play 'I'll believe in Anything' by Wolf Parade.

— Storefront Jenius (@DaveShecky) June 26, 2015
I'll Believe In Anything by Wolf Parade is always going to be utterly thumbs-up-fantastic.

— Hermione Taylor (@HermioneTaylor) December 19, 2014
Any week ends well with multiple takes of Wolf Parade's "I'll Believe In Anything"

— Neil King (@NKingofDC) September 12, 2014
"This is the exact song I didn't know I wanted to hear." – me, every time wolf parade's "I'll believe in anything" comes on ???? #reunionplz

— samantha barnes (@flockingthisway) July 19, 2014
How a certain moment in Wolf Parade's "I'll Believe In Anything" gives us chills every time we listen to it: http://t.co/1DxGtBl9Tj

— Rust Is Just Right (@RustIsJustRight) July 19, 2014
petition to make "I'll Believe in Anything" by Wolf Parade the official theme song of the internet

— ?????????ss??ss??s! (@paperbeatstweet) May 28, 2014
Please listen to "I'll Believe in Anything" by Wolf Parade. If it doesn't move you in one way or another, then you don't have feelings.

— orange cat (@tiannaprichard) April 24, 2014
…I broke the Wolf Parade Spotify page. Turns out you can listen to "I'll Believe In Anything" too many times.

— Sam Sabin (@samsabin923) March 7, 2013
"I'll Believe In Anything" by Wolf Parade is the best song ever and I will not listen to any alternate theories. Thanks.

— Jeff Israel (@jeffisrael25) March 1, 2013
I'll Believe in Anything by Wolf Parade is the most underrated song of life

— Alex (@alex_hanania) February 23, 2013
In my view, the greatest love song ever sung: I'll Believe In Anything by Wolf Parade http://t.co/APbEenqs

— MF (@qounsel) January 8, 2013
'i'll believe in anything' by wolf parade is great for hung over drives into work.

— Bird the artist. (@lonestardrunks) December 13, 2012
b/c no matter how cynical i get, a tiny part of me will always be a hopeless romantic. wolf parade – i'll believe in anything. #songoftheday

— Katie (@tandemfelicks) December 3, 2012
When my son asks me to turn up Wolf Parade's 'I'll Believe In Anything' I feel like my job, as a parent, is done until the sex talk.

— ADadABeardACanal (@DadBeard) November 29, 2012
@IrvingPlaza "I'll believe in anything" by Wolf Parade pic.twitter.com/25kZn852

— George Underwood (@gnarlywood) June 4, 2012
LMAO if Wolf Parade's I'll Believe in Anything isn't your spirit song.

— Spirit Ghost (@haha_what) March 25, 2012
What I would give just to hear I'll Believe in Anything played live by Wolf Parade just one more time. #WishfulThinking

— Paul Burke (@PABBYuk) January 31, 2012
---
[contact-form to='wolfparadefans@gmail.com' subject='comments from site'][contact-field label='Name' type='name'/][contact-field label='Comment' type='textarea' required='1'/][/contact-form]